RESTAURANT
Tern is a British produce lead restaurant, where guests can enjoy the highest quality of food, showcasing the very peak of seasonality. Responsible sourcing from British growers and suppliers, with sustainable practices are core to the ethics behind both the food and the experience.
Johnnys menus change frequently to reflect the ever changing agricultural year.
 Tern is about laid back, accessible fine dining, where guests can relax and enjoy informal, but slick service. With no dress codes or formalities, just book your table and come hang out, let us make a memorable experience for you in this completely unique location.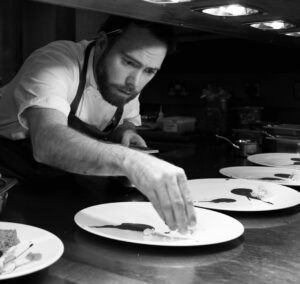 PRODUCE
"My inspiration comes from seasonality and our relationships with suppliers and producers, hearing and seeing first hand the dedication, passion and effort that goes into creating their products. From wine and spirits to fish and cheese our small island produces some of the best artisan ingredients that I have ever used.


I made the decision to use as much UK based produce as possible throughout our restaurant. Although what's available in Sussex is incredible this island we inhabit is so small that transporting produce within it is so easy. Which led me away from the 'local, local' and into thinking of the whole of the UK as local.

Waking up in the morning, checking the weather forecast in the highlands of Scotland to see if the boats are going to be able to go out, calling our shellfish supplier and having a chat about what's coming in that day, then that produce being in my kitchen less than 24 hours later is one of the stories I love sharing with guests about our food and process. I think that these connections are one of the things that make the UK's food scene so unique.


I believe that fine dining isn't just for expensive ingredients like lobster, truffles and caviar. It's what you can do with humble ingredients like a cauliflower or peas. Taking something familiar and transforming it into something special is what excites me the most about cooking."
Our Menu
The best of British produce, fish and seafood caught off the South coast and ethically sourced meat and dairy from U.K farms.
We try to change our menus every week, in line with the seasons and produce available to us. 
DESIGN & LOCATION
"It's such a privilege to have this opportunity to open my own restaurant in such a prominent, beautiful and beloved place. The space itself is stunning, and I am incredibly excited to be able to call this iconic landmark a home, and to get to write another part of its history."


"The pier is such an integral part of Worthing, it's a constant backdrop for the ever changing high street and changing tides. It has been a huge presence in our families life, as I know it has for many others,
with Tern we want to honour that significance with the experience we create."